News and Events
Vision Strategic Planning Meeting
June 30, 2016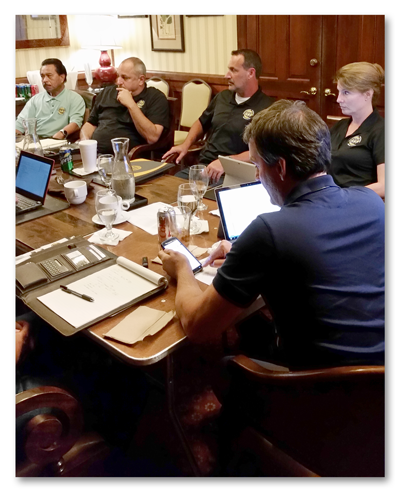 Like many well-run, successful businesses Professional Pavement Products, Inc. has a clearly defined strategic vision.

Appropriately named Vision 20/20 professional pavement products vision encompasses and clearly defines the organization's key thrust, initiatives and goals through the year 2020.

Every quarter the leadership team of Professional Pavement Products comes together for two days to discuss and determine the company's goals and priorities.


"The primary purpose of our team is to utilize the more than 100 years of combined industry and business experience to develop and champion an effective strategic plan." says Greg Driskell president and founder of Professional Pavement Products and an avid strategic planner. Professional Pavement Products uses specialized strategic planning software and processes to ensure alignment of the company's actions to its Visions priorities and goals.

We take strategic planning very seriously around here says Monika Thompson, national sales manager and 18 year veteran of Professional Pavement Products. "Everything we do ties back to our brand promise of products service and knowledge. And then to our core values" Professional Pavement Products core values include the Honor, Impact, Grow, Serve and Innovate.
Professional Pavement Products utilizes its unique strategic planning process as a primary tool in building on and adding to its 20 years of success in the industry.
---
Signs, Lines and Pavement Designs Educational Video Series
June 24, 2016

Professional Pavement Products introduces a new video series for Property Facility Managers and Local Transportation Agencies.
Professional Pavement Products recently released its first three segments of an educational video series intended to share best practices with property facility managers and transportation agencies on various aspects of roadway and parking lot safety and maintenance.
The Signs, Lines and Pavement Designs series offer simple roadway and parking safety tips that make your property safer for both motorists and pedestrians. These three short video segments cover economical and effective measures of sign management, median maintenance, and traffic calming.
The aforementioned segments also feature some of the most innovative solutions in today's market such as, the Median-Alert, a device that dramatically improves the nighttime visibility of the medians. Another solution is the Post-Alert that improves the visibility and noticeability of important traffic signs at curves, intersections and crosswalks. We also highlight the SaferRoads Traficop series of traffic calming devices which are the most durable and effective traffic calming devices available.
Be sure to watch these three videos, share them among your peers and customers, and watch for additional segments in the near future.
---
---
---
---
Median-Alert™ and Post-Alert™ featured in ATSSA Publication

May 19, 2015

After industry rave and acceptance of the Median-Alert, Alert-Brands™ products continue to make an impact with some of the most influential organizations in the transportation safety industry. In the most recent American Traffic Safety Services Association (ATSSA)publication, both the Median-Alert™ and the newest addition to the Alert-Brands™ product line--the Post-Alert™, were featured as devices that work together to make medians and their signs (as well as the sign messages) safer and more conspicuous.
The publication, "IMPROVING DRIVER BEHAVIOR WITH INFRASTRUCTURE SAFETY COUNTERMEASURES," was recently hand delivered by ATSSA members to over 100 of our U.S. congressional leaders. The intent of the publication was to point out infrastructure measures that can counter the effect of distracted driving. The pairing of the Post-Alert™,a device that increases the visibility of sign posts and their messages, and the Median-Alert™ in such a respected organization's publication thrilled PPP. Greg Driskell, owner and inventor of the Post-Alert™ and the Median-Alert™ commented that, "It's fantastic to have these solutions recognized by our peers and industry leaders." He went on to say, "By pairing the Median-Alert™ and the Post-Alert™, universities, municipalities, residential and commercial communities will reduce accidents, injuries and deaths at sharp curves, medians, round-abouts,intersections, and near and dear to my heart- wrong way driving and pedestrian crossings. " Greg then added, "In addition to the human-safety factor, these devices will reduce repair and replacement costs to both the motorists and the agencies."
The Alert-Brand products are truly making a visible difference in roadway safety. The Median-Alert™ dramatically improves the night time visibility of median noses, providing a clear and concise message to the motorist of the location, shape and size of the median. The Post-Alert improves the ability for signs to be seen and communicate their critical message.
To learn more about the Median-Alert™ and the Post-Alert™ check out the Products Tab or go to www.alert-brands.com.
---
Barrier-Alert™ Pilot Project implmented in Lake Charles, Louisiana

January 10, 2015

LAKE CHARLES, LA (KPLC) - They are called barrier alert or median alert devices and their inventor said they're a cost effective way to make the I-10 Calcasieu River Bridge safer. Installation is expected to begin Wednesday night.

To many people, the I-10 bridge is scary enough during the daytime, but as this nighttime video shows, it's quite dark on the bridge. But Greg Driskell's invention will be wrapped around the bridge median to increase visibility.

View the entire article by CLICKING HERE.